This is the world's most expensive vintage ski poster. In 2008, it sold for a whopping £36,500 in Christie's annual vintage ski poster sale. (And no, I don't know what it says either…)  Three years on and the price for this 1950′s Russian ski tournament poster had dropped to a mere £1,625 at the same sale. Such are the vagaries of the vintage market that today, on the Vintage Seekers site,  you would have to pay £8,800.  
However, not all prices on this vintage collectibles site are into four figures. A more modest £220 buys you Colorado. This is skier Jeremy Muth, captured on camera as he hurtles down No Name Gulch in the mid 1960′s. The deep blue sky contrasted with crisp white snow is a ski resort poster classic – but the logo is pure cowboy country.  
The Stowe logo featured below is one of my resort favourites. It's bold sweep, seemingly kicking up snow at either end, perfectly epitomises the energy and exhilaration of snow sports. I can't help wondering, though, if the talented illustrator behind this late 60′s poster actually climbed one of the lift supports to get the perspective depicted here. This example will set you back £860. 
The French resort of La Plagne played host to my very first ski holiday in the mid 1980s. However, this rather dull poster from 1971, overly dominated by the bobble hat of the resort logo, really undersells this very popular part of the huge Paradiski ski area. It is on the Vintage Seeker's site for £1,200.  
In their interesting buyers guide, they suggest that some of the discrepancies in poster prices are down to the popularity of the resort, as well as the more obvious constraints of poster condition and scarcity value. In a European outlet, that may go some way to explaining why this rather plain La Plagne poster is more highly valued than the more vibrant example for Stowe above.  And glamorous resorts, of course, attract a glamorous, well-heeled crowd happy to invest in some fabulous original prints for their chic, slopeside chalets.    
Vintage Seekers also tell us that resorts usually outsell regional or national posters, so one for Cortina is likely to be more valuable than one for the Dolomites or 'Ski Italy', for example.  No surprise then that this fabulous image by Mario Puppo from 1938, realised £13,750 at Christie's earlier this year.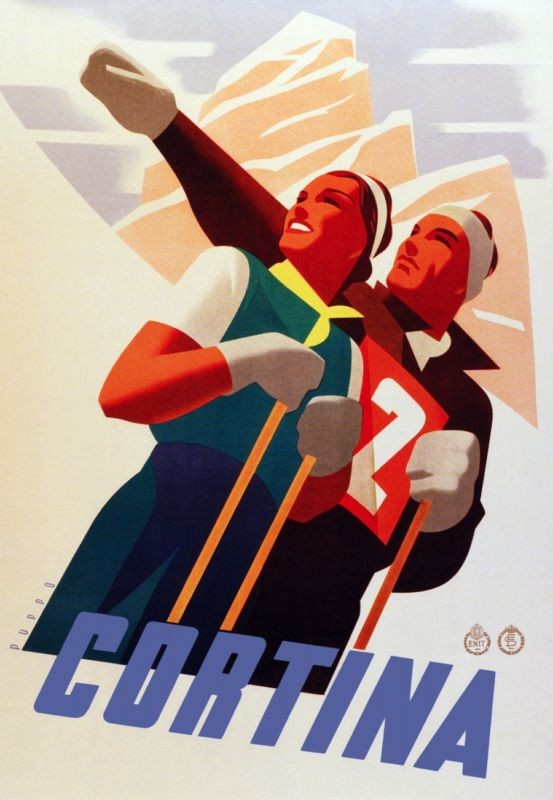 When it comes to investing in vintage ski posters then, it's not absolutely necessary to be a Russian Oligarch or Lottery winner,  though it certainly helps, especially if you get carried away with the bidding in a London sale room one January. But ski posters can still look good value when compared to other investments. Many posters that were fetching £3-4,000 in the late 1990s now sell for £12,000 or more - not a bad return. Just don't hang them in that lovely sunny back room …