For anyone handy with a sewing machine – and sadly I didn't inherit my Mum's skills with scissors & sewing threads – it is possible to create your very own vintage ski style. I've featured vintage sewing patterns before (here and here) but, as they are rarely thrown away, they keep popping up on my radar – otherwise known as Ebay and Etsy. And whilst I love the vintage illustrations on the front, it's the promise of the pattern inside that is probably most alluring for many. Unsurprisingly, given that body shapes have changed so much over the years, these patterns do need adapting. We've come a long way since the foxy dames of the 40s and skinny minxes of the 60s – in all directions.  Will my bum look big in this? Most definitely…

In 1930s America you could even emulate your favourite starlette's slope style with Hollywood Sewing Patterns. I love the simple but chic cut with a practical full length wind-cheating zip and waist-cinching tie-belt.
For girls, I imagine this super cute snowy twosome would have melted a lot of young hearts, especially when topped off with a bit of stripey Rip van Winkleness. It gets a star from me too.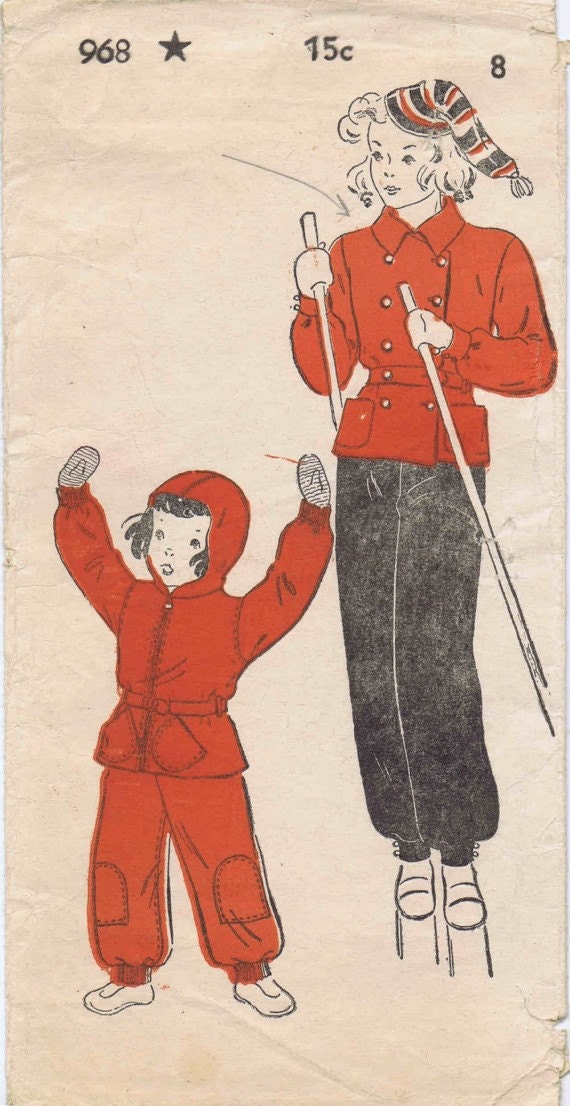 This sophisticated Simplicity pattern from the 1940s offers a warm, snug fit with its neatly adjustable buckled waist. Suggested fabrics include 'novelty woolens' – but somehow I just can't imagine this covered in cute little cartoon penguins…
This rather dashing duo look pleased as punch with their smart ski suits – but they've just gone too button-crazy for me.
More Hollywood style – covering every eventuality of your 1940s winter break in the mountains. So that'll be skiing, skating, hiking, err, yodelling and, hmmm, even a spot of lumberjacking by the looks of it. Well, that's obviously how one achieves that teeny tiny waist. Pass the axe love…
Don't miss the next exciting installment when we'll be plundering the 60s and 70s for more vintage sewing ski style…
Save